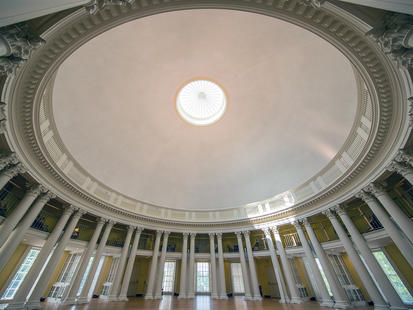 Competitive Scholarships
MBA - Tuition and Financial Aid - Competitive Scholarships - Oculus Fellowships
Oculus Fellowships
The Darden School will award The Oculus Fellowships to selected, meritorious Full-Time MBA students who demonstrate through an exclusive competition — in addition to their application to the Darden School — outstanding academic ability, achievement, and potential and promise as a visionary leader in business. These fellowships recognize exceptional students as the most prestigious fellowships awarded by the Darden School.
Named for the Oculus — the circular opening at the apex of the Dome Room in the Rotunda — the fellowships represent the illumination that these promising students and their ideas will bring to the University and to Darden. University of Virginia founder Thomas Jefferson modeled the Rotunda after the second-century Pantheon in Rome, and it forms part of the University's Academical Village, a UNESCO World Heritage site.
"Oculus" is Latin for "eye," and the high-achieving students selected as Oculus Fellows will bring vision as purpose-driven, responsible leaders who aim to improve the future of business and society.
These generous fellowships intend to provide sufficient financial support so that these leaders of tomorrow can fully develop their talents and contribute to Darden and the University's student-governed community while pursuing a master in business administration.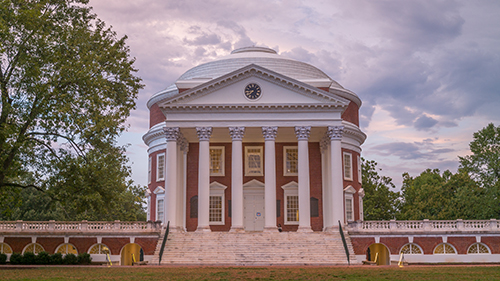 UVA Rotunda
The Award
The Oculus Fellowships will cover up to the full tuition and fees in the Darden School's Full-Time MBA program.
Oculus Fellows also benefit from:
Space to engage in collaborative conversation and learning and development with the other Fellows, starting with a Fellows welcome and orientation at the start of the First Year at Darden.
A variety of professional development and enrichment opportunities, including mentorship by Darden alumni, engagement with the Darden Dean and senior leadership, and ongoing engagement with Darden benefactors who support the Oculus Fellowships.
Participation in a Darden Worldwide Course, with the funding covered by the Batten Foundation Darden Worldwide Scholarship Program. Fellows will choose from global academic courses based in more than two dozen countries on five continents.
Applying to Become an Oculus Fellow
To be eligible to compete for the fellowship, a prospective student must apply to Darden's Full-Time MBA in Early Action, Round 1 or Round 2.
Exceptional candidates identified through the Admissions process will be invited to compete for an Oculus Fellowship when they are offered admission to Darden's Full-Time MBA program.
The selected finalists will participate in the Oculus Fellowship Competition, which will include additional virtual interviews with Darden leadership, faculty and senior executive alumni on the selection committee. Nominees will also engage with current Darden students and faculty in advance of the selection committee interviews. 
Awardees will be selected to interview after each round and selected prior to the deposit deadline. Prior to enrollment, Oculus Fellows will be matched up to a named scholarship provided by Darden's generous alumni base.