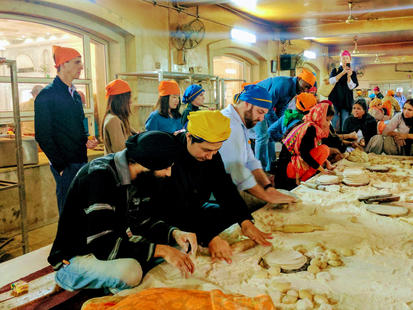 Global Immersion Courses
MBA - Global Immersion Courses - India
India
Data Science & Technology
Addressing Tough Problems in Business and Society
Course Overview
In this course, students will explore:
How Indian businesses and government entities are working separately and together to solve complex societal issues such as food and water management, health care, urban planning and farming, and issues around gender and minority rights.
Concepts in action such as "conscious capitalism" and "corporate social responsibility" 
Perspectives on the success and challenges of these initiatives by meeting with local villagers and various entrepreneurs as well as c-suite level speakers.   
Faculty Lead, Marc Modica
Courses currently listed are a sample of previous global immersion courses. Future global programs will be announced at a later date.
Darden in India
For the last several years, the Global Study Courses for residential MBAs and the Executive MBA residency in India have overlapped, allowing the degree formats to enjoy engagements together, including receptions hosted by prominent alumni.
Check the admissions schedule for the calendar of when Darden representatives will be in your area.
Darden Executive Education also partners with the Indian School of Business on a program that allows participants to join a multicultural cohort and to learn both in Hyderabad and in Charlottesville.
Through Darden's Asia Initiative, Darden faculty often conduct research or offer thought leadership in relation to India or present in the country.
Support Darden's efforts to attract top talent from India by giving to The India Fund.