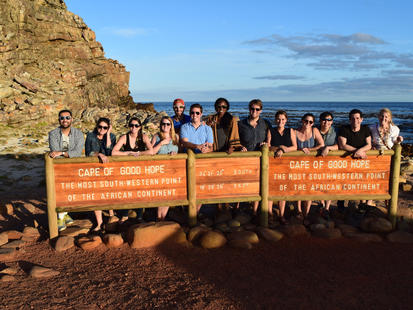 Global Immersion Courses
MBA - Global Immersion Courses - South Africa
South Africa
Rising To The Challenge: Entrepreneurship, Innovation and Leading Change
Rising To The Challenge: Entrepreneurship, Innovation and Leading Change
Course Overview
In this course, students will explore: 
How a country's history, culture and socio-political change contributes to present-day critical challenges around sustainable economic growth. 
Diagnosing the gap between economic growth and demographic growth and its associated challenges
How innovation technologies, greater financial inclusion, and entrepreneurship can propel South Africa and its surrounding regions into sustainable growth
How partnership like South Africa and china play a critical role in global geopolitical alliances
Faculty Lead, James French
Courses currently listed are a sample of previous global immersion courses. Future global programs will be announced at a later date.
What Have Students Said About This Program?
"I enjoyed the diversity of experience between visiting companies, museums, townships, and the park.  This was a great well-rounded experience of the country."
"South Africa is in an interesting place in their history, both economically and culturally.  Going to South Africa helped me understand a bit more about emerging markets, their advantages and disadvantages and how businesses function in light of this.  I had a great time with my classmates and professors, and learned a lot along the way."