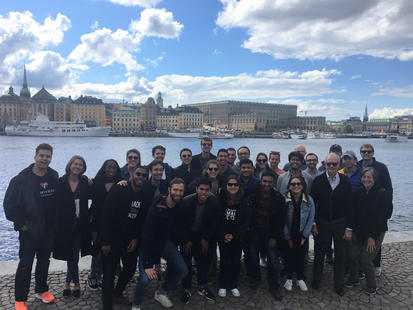 Global Immersion Courses
MBA - Global Immersion Courses - Sweden
Sweden
Entrepreneurship, Innovation and Sustainability
Entrepreneurship, Innovation and Sustainability 
Course Overview
In this course, students will explore:
One of the most environmentally conscious cities in the world, winning the title of European Green Capital in 2010, and the leading country for innovation among EU member states
The entrepreneurship ecosystem in Stockholm and how the city has become a hub for green technology innovation and commercialization
The pros and cons of the innovation culture in a country punching above its weight in global impact 
Faculty Leads, Sam Bodily and Jolene Bodily
Courses currently listed are a sample of previous global immersion courses. Future global programs will be announced at a later date.
What Have Past Participants Said About the Program?
"An unforgettable experience that gave me a new found appreciation for Swedish business culture and the environmental responsibility that is ingrained within it."
"The progressiveness of Stockholm, combined with the program's focus on entrepreneurship, innovation and sustainability, makes the course a dynamic and highly enjoyable learning and social experience." 
James Lonergan (Class of 2020) shared his experiences form the Darden Worldwide Course to Sweden in this blog post.